COMING SOON:

OBSERVATORY SKY MONITOR
Observatory Sky Monitor is a comprehensive solution for a permanently installed monitoring instrument at an observatory. It measures and reports the Sky brightness levels, Sky temperature and other derived parameters, as well as outdoor ambient conditions including the temperature, humidity, dew point and rain conditions.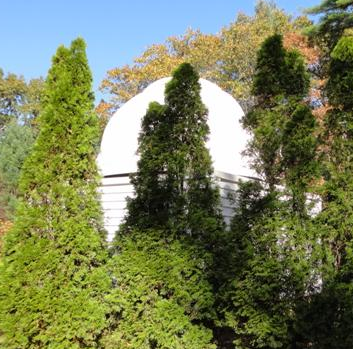 The instrument installs simply and quickly on any flat surface using 2 (user supplied) screws. It does not require long data or USB cables. The reports are made via the integrated Wi-Fi, to any 2.4GHz access point within approximately 100m range (terrain dependent). It only requires a DC power supply (user supplied) to its 2 pin, IP68 rated connector. Thus a short wire run to the observatory is all that is required.
The instrument contains two dew/ice heaters to prevent formation on the Sky Brightness lens and the rain sensor.
Observatory Sky Monitor interfaces to ASCOM or its own native application via the Wi-Fi connection. It does not require complex IP or port settings, only a simple Access Point setup.
Features:
Filtered Sky Brightness Measurement in MPAS2, NELM and Bortle
Sky Temperature and Sky Delta to detects even smallest cloud whiffs
Atmospheric Perceptible Water column in mm
Ambient parameters such as Temperature, %RH and Dew Point
Dew Point Alarm
Wi-Fi Connectivity
No data cables – only an inexpensive 2 wire power line
ASCOM drivers for supported readings
Native monitoring application for an all-encompassing data monitoring
Integral dew/ice heaters
IP68 rated device
Simple installation
SQM Filtering Response is similar to that of other widely used instruments. Typical variance is roughly 0.010 MPAS2.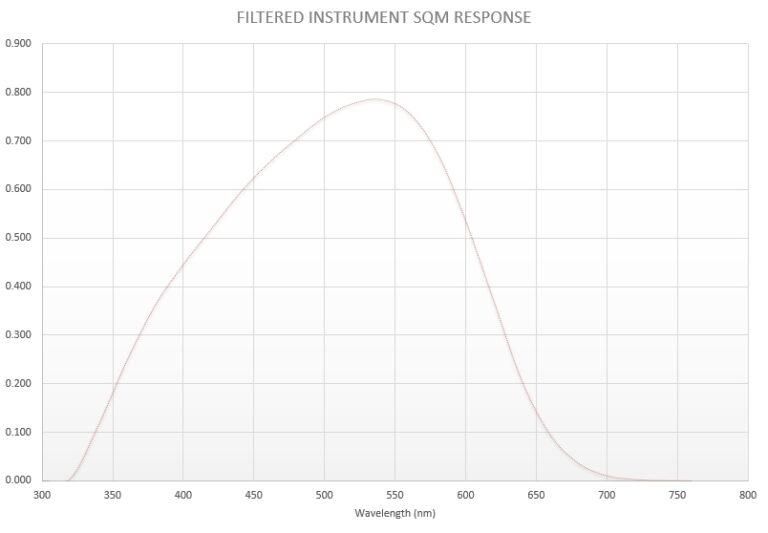 Observatory Sky Monitor Specifications
SQM (Sky Brightness)

 
 
Range
7.5 to 23+
Mag per Arc sec2 (MPAS2)
Resolution
0.001
Mag per Arc sec2 (MPAS2)
Noise (typ)
0.003
Mag per Arc sec2 below 20 MPAS2
Beamwidth (HWHM)
13
degrees
Update Rate
5 sec typ.  @ 19 MPAS2
Slowest: 30 sec at 23 mpas
Filter
BG-39
Similar to CM500
Dew/Ice Heater
Included
 

STM (Sky Temperature)

 
 
Range
-70 to 60
degrees C
Resolution
0.01
degrees C
Noise
0.01
degrees C RMS
Beamwidth (HWHM)
12
degrees
Accuracy
TBD
degrees C
Update Rate
1
sec
Emissivity
0.7
set to typical Sky
PWV (Precipitable Water Vapor)
0 to 20
mm (reduced accy. Above 20mm)

Measured Ambient

 
 
Temperature
-20 to 70
C
RH
0 – 99.9
%
DP
-20 to 70
C

Wi-Fi

 
 
Protocol
802.11 b/g/n
2.4 GHz
RF Power
100
mW

Power Supply

 
 
Voltage
10 to 24
VDC
Supply Current
1
ADC
Connector
SP-13, 2 PIN
IP68 rated, Plug & Socket Provided

Rain Sensor

 
 
Dew/Ice Heater
Included
 

Environmental and Water Ingress

 
Protection Level
IP-68 / NEMA 6P